WELCOME to our site
We are two brothers with a passion for cars - especially American iron
We are living in Löddeköpinge (or in English, Loddekopinge) in the south of Sweden.
There will soon be some more information and other great stuff added to this page
Have a look at our cars
| | |
| --- | --- |
| Thomas '55 Chevrolet Bel Air | Mats '38 Ford |
Street machine, Street Rod, Hot Rod, Custom, Andersson, Bros, Classic chevy, chevy 55, 55Chevy, chevy-5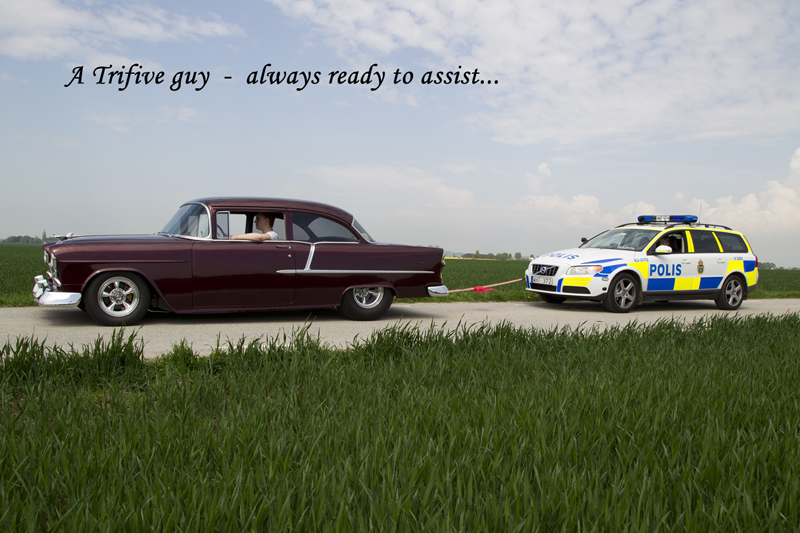 I had a short photoshoot with the Swedish Police a while ago
If you have seen American Grafitti - you know the drill with officer Holstein

Go for a ride in my Chevy

I have created a small database with Classic Chevys located in the south of Sweden
CLASSIC CHEVY Database of South Sweden

A few pictures from meetings in Sweden
...
Classic Chevy Club Sweden Summer meet

Welcome to the TriFive community!
click on the banner to
Visit the best Classic Chevy forum on the net

or learn more about Chevrolet at ChevyLegends


Own Shop!
My brother and a friend started their own shop 2003
Have a look at
The site is in Swedish but you can always enjoy the pictures

The WINNERS........


| | | |
| --- | --- | --- |
| | Click below for some of our friends' cars (garage scenes) | |
I saw an article in the old Summit catalogue the other day. They were talking about the 'Worlds fastest street driven GTO'. Well, I don't know about that...Check out this guy, Alf, from a neighbour town

A real street driven GTO with a powerplant from the famous man - Jimmy Oddy

572 Merlin II / Kuhl 14-71 / 1001 Hp on pumpgas

5,79 sek / 124 Mph on the 1/8 mile

Alf, a real sportsman, driving to and from all races, with the picnic basket in the trunk...

(the site is in Swedish but enjoy the pictures...)

The Whole Gang on the road


Pictures from the visit to

This is a couple of years old now. Erik Hansson moved from Sweden to California !!

American Graffiti
Paul LeMat visiting Sweden
A while ago we had a visit by the famous "John Milner", signing posters etc.

I bought a poster, of course, and the following takes place:
Me: Can you please write "To the winner from Paul LeMat"
Paul: ...."To the winner"??
Me: Yeah, you see, I've got a 55 Chevy
Paul: ...Oh no! No way, not a chance!... *big laugh*
Finally we agreed on his suggestion 'Who won...?'

Listen to one of the best dialogs in the movie
or view this outstanding clip

This is the weather here in the south of Sweden
Why am I not living in Bakersfield ????

American iron in Sweden
For those of you who are not so familiar with Sweden and the enormous interest in American cars:
- We have close to 9 million people living here in Sweden
- The Swedish Corvette Club is the biggest in the world (outside USA)
- The Power Big Meet gathers close to 25000 American cars - Power Big Meet


....annoying with these American Racing wheels hanging around isn't it?...
Send any comments to

<![if !supportEmptyParas]>
<![endif]>
© Use of pictures and images on this site is possible after written permission from the Webmaster